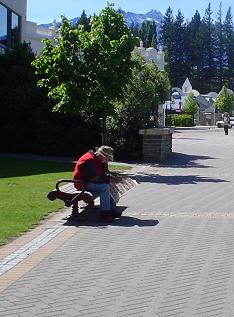 There are too many books to read in my room now before I knew it. Today I read and read and enjoy it.
This afternoon, I had a phone call from the company which I'd had an interview on Tuesday. He said if I could have the second interview tomorrow. Of course, I answered "Yes!".
When I had the last interview, the interviewers told me that they would answer maybe next Monday. I guess that was a good stream to me because if they were not interested in me, they would never meet me again.
Anyway I'll keep doing my best. And keep reading books and writing a book.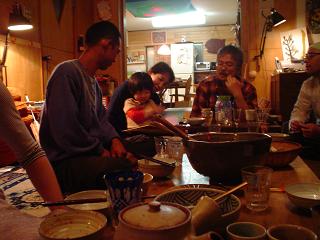 At the end of April, I visited Tokurin temple.
When I arrived there, Mr. Aoyama was in the room and said to me,
"Wow! You came here to celebrate the birthday of Mr. Hideo Ito?"
Mr. Aoyama is a photographer. He lives in Nagoya city and often visits Tokurin temple. I'd got to know him at "the festival of Buddha's birth" at Tokurin temple. It was at the beginning of the month.
Well, the next day was just the birthday of Mr. Hideo Ito. Of course, I hadn't known that. I visited just for my book. But anyway, it sounded good. Mr. Hideo Ito lives under the hill of Tokurin temple. He is a picture book's artist. When I'd met him before, he sketched me. He told me he would use it when he makes "Momotaro". Momotaro is a famous fairy story in Japan.
Anyway the next day, I went to
Mr. Hideo Ito
's birthday party. After the dinner, I played with his son, Ushio. Ushio was 5 years old, I suppose. Although I'd played with him at that Festival, I'd usually played another boy. Ushio is a quite shy boy and quiet. I thought he resembled my childhood. Opposite to him, another boy was a dynamic active boy. He used to make Ushio cry though the boy couldn't understand why Ushio cried.
Anyway, at the birthday party, I played with Ushio. He was more active than I'd though. We played with something like refuse which littering the floor. I'm often impressed with imagination which children have. They can play with anything. They can see rubbish as like toys. The next instant, it has already started their own stories in their head. When I play with them, I can sometimes see something which they made in their stories. When I played with Ushio, I could see the sea, a mole, a ship, ice hockey players, birds, barrels, and so on at just the small space in the house of Mr. Ito. It was a wonderland made by Ushio.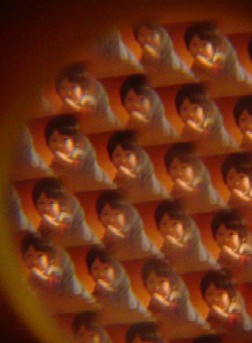 Children prefer simple stories to read books or to watch TV, films, and something like that. Opposite to them, adults prefer complex stories. Adults generally think that children cannot understand complex stories so that they watch simple stories. But maybe adults don't have as much imagination as children so that they cannot enjoy simple stories, I think.
Actually, now I can see their wonderland more than three years ago though not as much as my real childhood yet. It means I've been growing down to childhood, perhaps.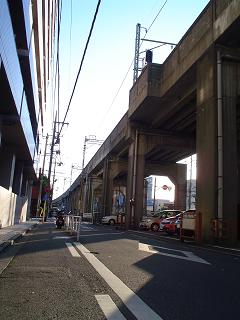 I had a job interview this evening. I talked to two interviewers. They talked to me friendly and so I could quite relax and told about myself quite smoothly.
That was why I've done my best. However, they told me that many people had applied to the work. But only one person can get it. Ah, please good luck to me!
They told me that they would answer next Monday because they needed to meet many applicants. That's why my no work days will continue at least for 6 days more. Then, I'll spend the time to read books and keep to write a travesty of a fairy tale.
Such days might be not bad.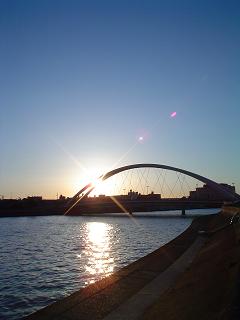 This morning, I went cycling along the river. There were no clouds in the blue sky. It was windy and a little bit cold. I felt fresh air.
At around noon, I rang to a company to apply a job interview. Then, I'll have a job interview tomorrow. I wish I will get it. A condition of the work is perfect for me to make a book.
That's why I'll do my best or moreover tomorrow.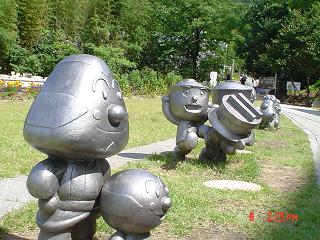 I write a book. But what does that mean?
It's just a game. I just want to meet and talk to interesting people. I am just curious. I'd thought so. However, Mr. Hirabayashi pointed out the contradiction.
I don't want to send a message to people like a teacher or a priest. I just want to touch a chord with somebody. I mean I'd like to look for somebody who has similar feeling and thinking to me. But to make a book means to send a message to people. Ah, it's difficult.
Today, an idea came into my mind. Then, perhaps, I wonder that I should be an unrespectable person. Then I don't become like a teacher or a priest.
But anyway, I have to go first. It doesn't matter whether I was a bad man or a good man. Actually, it was my important concept from the beginning.
There are no evil or virtue. There is just a zoo named Earth.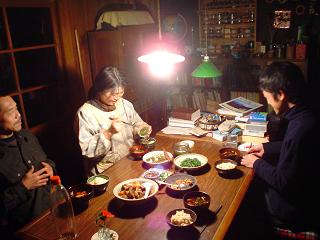 Actually, it's already 5 am of 14th now. I have read my old diary.
Yesterday, I got a letter from Mr. Gufu who lives in Kamikatsu, Tokushima. Well, the man at left (and is cut) in this photo is Mr. Gufu. I'd asked him if I could visit his house in June on a letter several days ago. As I expected, he would welcome me. He wanted me to help planting rice.
That is fine. But actually, I haven't got repling from the company that I'd sent my PV three days ago. I am poor so I must work to go to Tokushima. I must go there to write a book. I wonder if I will ring to the company tomorrow.
But anyway I am alive still. That's fine. I've tasted the no work days. Then, I feel like writing a travesty of fairy tale now. Now I decided to write it first.
There are some precooked food left in my room still. They can tide me over a week if I lost money.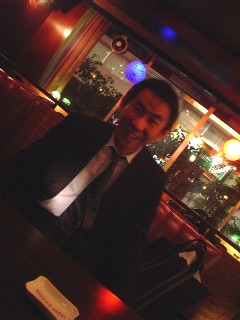 This evening, I had dinner with Mr. Hirabayashi who is a game analyst. He was my teacher when I was a college student.
Today, I met him to talk about making a book. I told him about my project. I explained to him what I'd like to do in this project. Then, he pointed out a bad spot.
I would interview to interesting people about their strange lives. But Mr. Hirabayashi advised me that I should not only be an author but also the main charactor. He said that I should write a novel. He had said like that also before that time. A novel...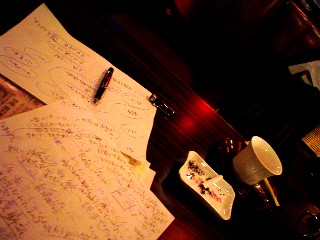 Anyway, I'm going to visit the houses of interesting people, and then I'll write the story of adventure.
Today, we talked for about 3 hours. But actually he had had another appointment. He changed it to 2 hours later and apologized to a man on the phone. I am thankful to him and I will surely write the novel.
But first of all, I am going adventurous travelling.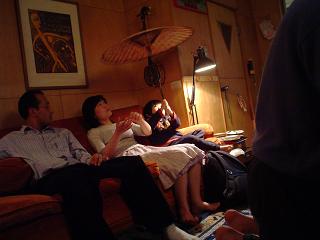 Two weeks ago, I visited Tokurin temple of Nagoya. Then I told the people that I would make a book. A man said,
"In English?"
He is Mr. Manic, from Nepal. He lives in Tokurin temple and goes to university. He speaks English fluently.
"No way. It's impossible!", I said.
I thought he was kidding. But he said seriously,
"If you write in English, many people can read it."
Yeah, he was right. Although I have poor English skills, my diary has been sometimes read by different country people. I wonder if I would write about my book here in English if I could make it.
But anyhow, I should go forward little by little. And before everything else, I taste the mysterious days which made by my strange or ordinary action.