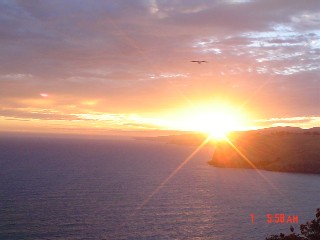 There was a big earthquake in Kyusyu this morning. The earthquake caused extensive damage to Saga where my friend Natsuko lives.
I was very worried about her because I'd sent a thoughtless e-mail to her last night. I hadn't e-mailed to her for a long time until last night. And so, I said,
"Hi, how're you? Are you alive? I am alive. By Kazu"
And, about 10 hours later, the earthquake happened. I heard about the news from a customer at the noodle shop where I work. And so I couldn't know how big was that. Then my imagination made quite bad sight and story.
At a breaktime this morning, I e-mailed her,
"Are you alive? though I asked also last night."
In the evening, I got an e-mail from her. She said,
"I am alive!! though I said also last night. The earthquake was very heavy you know, but I am fine!"
And afterwards, she also said,
"I hear there would be a big earthquake in Tokyo area. Good luck!"
Then I thought it might come tomorrow.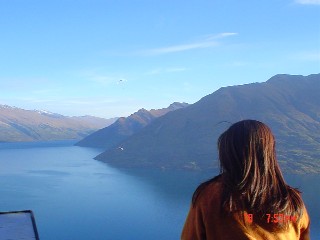 Sometimes, I feel the atomosphere of New Zealand in my dream. I'd like to take a deep breath in fresh air. I go to work by bicycle every morning. Then I go along National Highway 1. There are many big trucks passing. That's why the air is dirty.
I really miss the atomosphere of NZ. I loved the deep blue sky...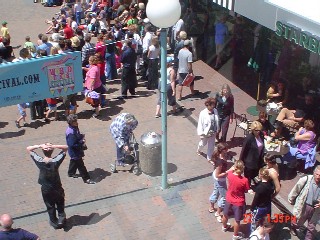 Actually, it's nearly at noon on 18th already. It's my off day so that's no problem but I didn't renew this site last night. That's problem. Then, I cheated at the date though I make it often. Well, last night(17th), I slept before I knew it...
Today(17th), I set up clocks on this page. Have you checked it yet? I put two clocks. Do you know where Christchurch is? It's a beautiful Garden City of New Zealand. And, do you know where Yokohama is? I live in Yokohama now. The population is larger than the population of New Zealand. Too many people live there.
One day, I was just standing in front of sunrise, ...but then I took a picture of myself actually.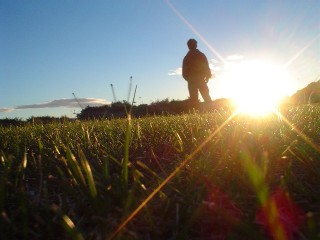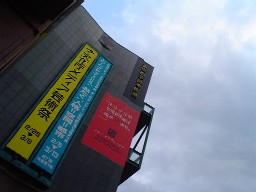 On 2nd March, I went to
Japan Media Arts Festival
at
Tokyo Metropolitan Museum of Photography
. There were 2004 Award-winning Works of Media Arts at the festival. But I hadn't known almost of all those works because last year, I spent most of time in New Zealand. That's why there was quite fresh world for me at the hall.
Two years ago, I went to
the Festival
for the first time. Then, I was a student. That time, I went there to see some games. Especially to see Tetsuya Mizuguchi's works. He was a man who advised me to see the world. In other words, he made me to go to New Zealand.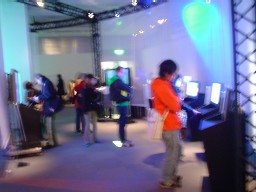 Well, that time, his works
Rez
was awarded. I liked that game. That time, I played Rez sitting on the special seat in the hall. Then, I had quite curious feeling. Then, how can I say, there was quite strange place.
But this year, I couldn't feel such atmosphere at the game booth unfortunately. Although there were some interesting games there, I felt that it was the same as a toy counter.
This time, what most fascinated me was a comic book. Just today, I got it at a book shop. The name is "
Yunagi no Machi Sakura no Kuni
" (The town of evening calm, the country of cherry blossom). The scene is Hiroshima after atomic bomb. Although I had ever read some books about Hiroshima and War, this book made me have special feeling which I had never had. The books before I'd read usually said like,
"Many people killed by W.W.II and A-bomb."
"And so, No more war! And don't make nuclear weapon! Love and peace! That's all."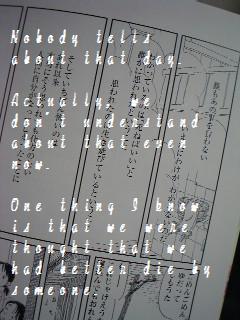 But this book, "Yunagi no Machi Sakura no Kuni", shows real life of people. One day, Hiroshima people were surely thought that they had better die by someone. In this book, there are no these words, "Japan", "US", "War" and "Peace". The writer shows the story of Hiroshima people at the time from that day to present. I think she wants to say that it is coutinuing even now.
I will read this book many times.
Track back to...[
スタッフ一同より感謝を込めまして
]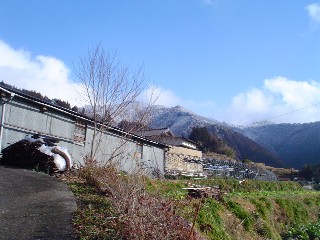 In the evening on 3rd March, I flew to Tokushima where a part of Shikoku. It was rainy when I arrived at Tokushima airport. Then I caught a bus and changed to the train to quite country station. When I got off the train, Noriko was waiting there to pick me up.
She lives in
Kamikatsu town
. But actually it looks village. In fact, it took an hour to get her home from the station. Anyway, Kamikatsu was quite rural place and I loved it.
By the way, why I went to Kamikatsu was Working Holiday. Noriko works for the town (village?) planning company. And the Working Holiday is one of the project. In Kamikatsu, there are many old people lives, especially farmer. Then, 35 (I suppose) young city people visited there and stayed and worked at the local people's houses.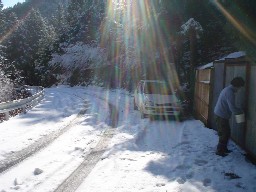 But actually, it would begin on 4th. And so I stayed Noriko's house on 3rd. And in the morning on 4th, I assisted Noriko's parents to work. It was interesting. Her parents cultivate Amego which kinds of freshwater fish. I went up to the mountain by car with her mother. There were covered with snow. I just do easy work there. There I could feel fresh air. It was so nice. There was about 700m above sea level and so it was a bit cold.
When we had a break at the cabin, she checked something on the computer. I asked her what she was doing. She said,
"It is stock trade. You know, in the country, what people enjoy is like this. Stock. It's very nice. I'll teach you how to get money. It's fun."
She is a very funny lady. Well, I said,
"I don't do gamble."
Then, she got angry.
"It's not gamble, you know? It is business!!"
"Oh, I'm sorry", I said.
She is really funny.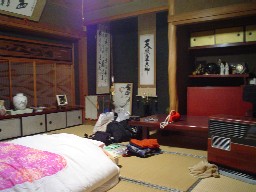 Well, she had been to some foreign countries. Her talk was interesting. She really likes talking. After that, She and Noriko's grand mother prepared great lunch for me. Noriko's grand mother was also funny. She also likes talking. Then, I could really relax. But she gave me too big lunch with a smile.. And I ate too much then. Anyway, I already had a very nice time before begining Working Holiday.
To be countinued...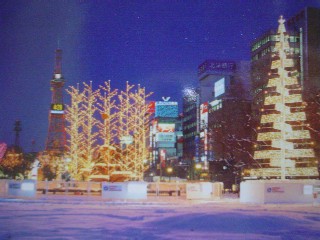 In Hokkaido, there happens
Sapporo Snow Festival
in February. But I have never been to Hokkaido. I wanna go there someday. Well, this photo is a photo of photo. It is a post card. From Teiko.
I caught it a couple days ago. She lives in Sapporo and she told me the Festival was great. Although I was visiting her home in Sapporo some time, she is going to leave there before long because she was tired from the overwork.
"Perhaps I will go to NZ again! after that.", she said.
I'd like to go to many places, too. Before that, I have to work hard. Maybe I can't go to New Zealand for the time being. Anyway, I'm gonna quit my job in April and afterwards, I am going to the temple in Nagoya. It's called "
Tokurin-ji (Tokurin temple)
". I am meeting quite interesting people there and will think what kind of job I choose next.
There perhaps I will attain enlightenment though I'm not a Buddhist.