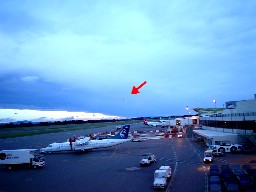 This morning, Tomoko went back to Japan. She is the first Japanese who I met in New Zealand. She came to New Zealand the same time as me and started to go to English language school, and besides we were classmate. Actually, we had the lowest level class then.
Although I'm not sure what she felt about me, I thought we had partly similar life in New Zealand for about a year. I mean we have thought of our lives for a year. In fact, we've had different experience. Well, she went to many towns to work at farm. I went to some place to get interesting jobs. In fact, we had the same problem about money. But I think that the problem gave us wonderful experiences each.
Only once we went a trip together. It was last October. We went to Greymouth with three Taiwanese; Sindia, Sandy, and Tina. I felt that it was quite long time ago, like once upon a time. Tomoko had the same feeling as me.
That time, we used to be worried about everything. Like as children. Then, the Taiwanese girls looked strongminded for us. But now, we've been grown up by New Zealand.
Tomoko told me that she realized that she really liked her ex-job though she'd quited it. She said she was going back to be her ex-job. That was her answer which she could get in New Zealand. And, I have also realized many things in New Zealand as much as I can't tell it.
Who did make Working Holiday? I really think. Maybe he could never guess that many Working Holiday Maker would go back to their countries in entirely changed mind.
Anyway, Tomoko left New Zealand today. She said,
"Both I met first and last was Kazu."
Ah, everybody has gone. Tina, Sindia, Masa, and Tomoko. They came to New Zealand the same time as me. At last, only I am here, in Christchurch. I wonder how they are now in their hometown. I am still alive in Christchurch. Now, I can feel the season which we felt the time we arrived in Chch last year. And before long, it'll be time to leave for me as well.
See you Tomoko. Good luck with your lovely job.