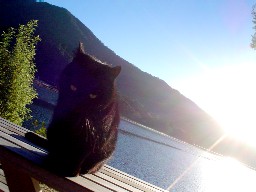 Hello, everyone. How are you doing? I'm good except for a bit sleepy. In fact, I hadn't slept enough last night.
Last night, I wrote a diary and afterwards read a book till late. And besides, this morning, Blacky (cat) disturbed my sleep at 6:30 by walking on my bed.
That's why I was not so energetic today. Although I usually went running after finish working, I needed having lunch soon. After that, I read a book for a while, I went running with King (dog) but it was nearly walking.
In the evening, I also didn't have energy to cook for dinner. Then, I had had two Potatoes and two mushrooms which were put into a microwave just three minutes. It was easy dinner. I had also cereal. Well, there was Akiko, and she said,
"It's like breakfast"
Now, I'm going to have a hot spa, and afterwards sleep early time. By the way, it was very fine weather this morning. Then, I took much of photos (over a hundred). I love taking a photo on sunny days. I guess I consumed all my energy this morning.
Then, see you tomorrow. By the way, thank you for commenting here, Eriko. Are you all right? I haven't heard good news from you for a long. I can't say anything to you without good luck. See you in autumn.