It's 2am now. I should be awake until dawn because my work will start 10pm.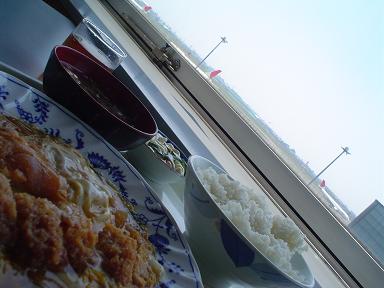 I work at the post office of Tokyo Airport. Although I worked in the daytime today and Friday, I will work as the nightshift from tomorrow. That's why I should go to bed in the morning.
Thanks to the cheer of everyone, I could get a good pay job. Thank you very much! And my big project will also go well. Actually, I've already got 5 days holiday the week after next. From 19th to 23rd of this month, I am going to Shikoku to see interesting people and to make a book.
This evening, Mr Gufu rang to me and said,
"Have you decided your plan about visiting our house?"
"Yeah, I talked to my boss about it just today, and decided it."
"Have you got a letter from Mr Nakamura?"
"Yes, I have. Just last week."
"Both of us will welcome you anytime. See you then."
"Thank you so much. See you later."
Mr Gufu lives in Kamikatsu town, Tokushima. Tokushima is a part of Shikoku island. And Mr Nakamura is his neighbour. I got to know Mr Nakamura at Tokurin temple.
Well, yesterday, I rang to Eiji who lives in Nagoya. Several weeks ago, I sent a letter to him and asked if he come to Kamikatsu town with me. Actually, I'd thought he wouldn't come with me. But yesterday he said,
"Thank you very much to ring me. I wanna come with you. But.., I don't have enough money for that. Then, I'll ask to my parents."
I was very glad. Actually, Eiji hasn't stayed other people's house at all. It means it'll be the first time for him to stay somebody's house if he could go.
I really wish he would join me. Because then, I must write an interesting story.
By the way, I had lunch at the dining room of my work place today. I became to eat good food because I got a job. And I could see many aeroplanes to fly away while having nice lunch. I am a happy boy.
But from tomorrow, I work as the nightshift. Then, the dining room is closed. I'll have supper(?) at the corner of my work place. By the way, my work place is like a warehouse of mails.
Anyhow, I haven't died yet. Take everything easy.