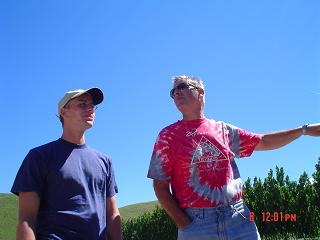 It was the birthday of my friend, Peter Zaugg. He is a Swiss man and became 50 today. I met him in Christchurch, New Zealand in Oct, 2003. He'd arrived there just a week before I reached.
Although I came back to my country 12 months later, he went back only recently. He traveled with his wife. They are extremely active. You can see that looking at the photos of their website. They have visited New Zealand, Australia, Fiji, and Thailand. Then, they have often renewed their website. Although it is written in German, you can enjoy watching their beautiful photos.
"
Traveljoy
"
On the menu of the website, "Bilder (Fotos)" is the page of photos.
Although I couldn't join his birthday party today, I am going to visit Switzerland sometime.
A Happy birthday.