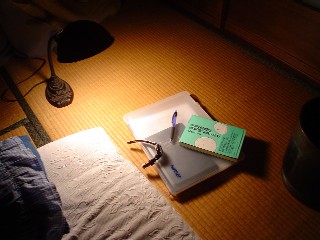 Yesterday, I got an e-mail from my friend who I'd met in Kamikatsu, Tokushima at the beginning of this month. His name is Ken. He drove me to Tokushima airport from Kamikatsu town. He lives in Tokushima city.
Well, he is going to Kamikatsu this weekend. In Kamikatsu, I stayed an interesting house. The owner is Mr. Watanabe. He and his wife are quite interesting people. Those days, Ken stayed another house but he was really interested in Mr. Watanabe. That's why he is visiting Mr. Watanabe this weekend. Similarly, I am going to Tokurin temple in 10 days because Mr. Watanabe would visit there and there were lot's of interesting people there, I guess and hope.
I am curious. I like seeing interesting people.