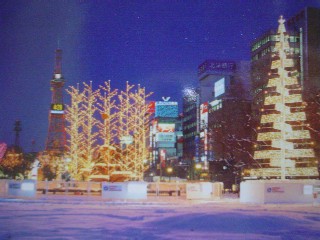 In Hokkaido, there happens
Sapporo Snow Festival
in February. But I have never been to Hokkaido. I wanna go there someday. Well, this photo is a photo of photo. It is a post card. From Teiko.
I caught it a couple days ago. She lives in Sapporo and she told me the Festival was great. Although I was visiting her home in Sapporo some time, she is going to leave there before long because she was tired from the overwork.
"Perhaps I will go to NZ again! after that.", she said.
I'd like to go to many places, too. Before that, I have to work hard. Maybe I can't go to New Zealand for the time being. Anyway, I'm gonna quit my job in April and afterwards, I am going to the temple in Nagoya. It's called "
Tokurin-ji (Tokurin temple)
". I am meeting quite interesting people there and will think what kind of job I choose next.
There perhaps I will attain enlightenment though I'm not a Buddhist.