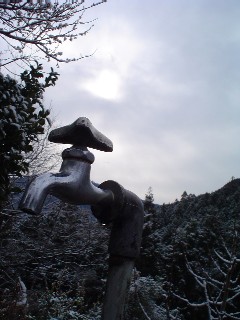 It is my off day tomorrow and so I've come to my parents' home in Kasukabe city now. This week, I haven't had good sleep. I haven't had good food. At last, I will have these tonight at home.
Last weekend, I went to Tokushima where a part of Shikoku. I'll tell you about it later. After the short trip, I decided to quit a job at the begining of April. Now I've been working at the noodle shop. After I quit a job, I am going to visit a temple in Nagoya, and stay a couple of days or perhaps a week. That time, there has a big festival, and I will work (help?)there. I hear that about 200 Nepalese people come to the festival. I am quite curious. And so I go there.
After that, probably I'm looking for a new job. I am going to get a job which I can get better pay than the present job. The noodle shop staff is my 5th job after I came back to Japan, I suppose. I enjoy changing my job. But my parents always say,
"Can you keep to live? Can you pay for the rent of apartment? Don't be dead"
Then, I wonder what I do. Anyway, I'm going to think about it at the temple. See you maybe tomorrow.