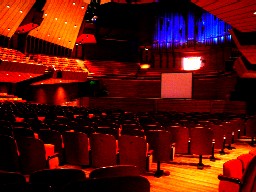 Although I'd made a mistake yesterday, I went to the Town Hall to see the concert tonight. It is named "International Organ Proms 2004". A German man played the pipe organ.
It was nice but actually I couldn't fully appliciated how great he was. Anyhow, it didn't matter to me. I had a very nice time. While I was listening to his performance, I thought about my life. Then, I also thought about his life. He seemed to enjoy playing organ very much. I like to see people do something hard and enjoy it.
Listening to music by CD is good but to go to concerts is quite different and wonderful, at least for my part. Well, it was the last Sunday in New Zealand to me. Next Sunday night, I will be in Japan. Ah, I wonder what I will be doing next week. I can't imagine it is just like when I came to New Zealand. Actually, I like it. I mean I like mysterious life. How about you?