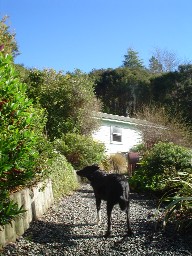 Hello, everyone. How's it going? I am fine. It was raining now though it was cloudy at the daytime.
This morning, I assisted Mike to renovate a house. He felt a bit better but not so good yet. And so we've done it slowly. He said,
"I am a hundred years old today"
Surely, he moved slowly but I thought it was 70 years old if so much. Anyway, he has needed rest more.
On the other hand, I am very fine as ever. I went running as usual and had big meals. However, I've felt a bit bored because here has been quiet lately. No customers have come here after the Spanish couple left. Mike is worried about the BBH business. If you are interested in our place, please come here tomorrow. Please ring us. Or send an e-mail, please. Anyway, have a look at this.
Hopewell BBH in Marlborough Sounds, New Zealand.
Then, see you in Hopewell. We will welcome you anytime.