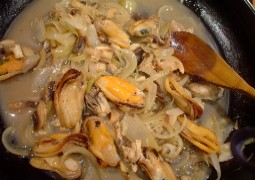 Hello, everybody? How are you doing? I'm very fine.
This morning, when I was having breakfast, a German guy came there. I said,
"Hi, Ich heiβe Kazu"
It means my name is Kazu in German. He said that his name was Firix with a smile. He has a good smile By the way, he spent time for fishing almost all day.
Today, I've got a new work. It is to wash the spa pool. It's a bit interesting work. From today, I do it everyday. After that, I did easy work and finished early time.
It was cloudy. I went running alone. Well, King was chained up by Mike this morning. Actually, King ate lamb which Mike had sheared and dried in the garden. Very bad boy, King.
After running, I picked oysters and mussels up on the beach for dinner. Then, I saw Mike was laying timbers on the wall of the building alone. And so I helped him. I'd already known how I can help him because it was the similar work to yesterday work. Two heads are better than one. Two pair of hands are quite better than one. I thought I could good help him. Then, I was very happy.
In the evening, I cooked the original spaghetti version 9. It is like vongole. I used oysters, mussels, garlic, onion, and mushrooms. It was amazing taste. Very good. The seasoning was mainly coriander, nutmeg, sage, basil, butter, wine, and lemon. And a bit, soy sauce, white pepper, and so on.
When I have dinner, there were many people in the lounge. I had the spaghetti the next seat to Richard. Tonight, I could cook so good meal that I had Richard taste it. Then, he said,
"You would be a good chef. Will you be?"
"I won't be a chef. It's just a hobby.", I said.
I really like cooking and enjoy it but if it is work, I wouldn't enjoy it, I think. Work is quite different to hobby.
Well, it's very cold tonight. Although Mike told me that it would have been bad weather tomorrow, there is shining moon in the sky now. I am sleepy and so see you tomorrow.