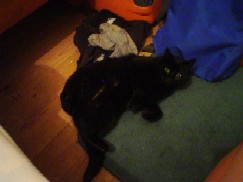 Hi, everyone. How are you doing?
This morning, Blacky (a black cat) woke me up at 6:30. She stayed in my room last night because it was awful stormy outside. She walked about on my bed though I was good sleeping. Although it had been still stormy then, it was gone in the morning dawned.
Our work was easy today. After I finished working, I translated
the diary of Mr. Mizuguchi
into English. Afterwards, I went to Blenheim with Lynley and Akiko for shopping. Although I was afraid of carsick, Lynley gave me a medicine. Nevertheless, I had carsick. I'll never go shopping anymore. After I got home, I went to bed early.