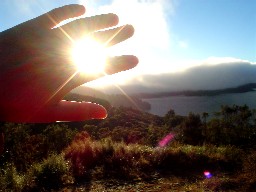 Hello, everybody. How's it going? I'm as well as ever. It was as well as ever, too.
This evening, Akiko arrived in Hopewell. I'm very glad that she came here. Here has been getting quite quiet place. A few customers have stayed here lately. Now, I've got a companion to talk with. Although Akiko is Japanese, we usually talk in English. I wish it would be good English study for each.
By the way, I woke up at 7:30 this morning though I hadn't woken up such early time recently. Then, I walked up the mountain with King. I saw the shining sunrise. It was great. When I was walking, I felt quite hungry. Although I had breakfast afterwards, it was very delicious. Then, I thought I should keep the morning walking as I could. For that purpose, I have to wake up a bit early. I'll do it tomorrow, maybe.
It is 6:30 pm now. Lynely is having Akiko and also me for dinner tonight. Then, see you tomorrow.