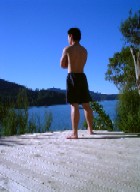 Hello, everyone. How are you doing? I'm not bad and it was sunny again.
In the morning, when I was cleaning a bathroom, Lynley told me I would be alone there because she was going to fishing with many children, the customers had gone to play golf, and Richard had gone walking. She said, "It's Home alone!"
My work was easier than usual today. After finished working, I had a shower and a hot spa. Maybe I was in the spa for nearly an hour. Then, I was looking up at the blue sky. I was buried in thought. I was quite smaller than the sky, I thought. What can I do by this small body? I'd wished that I'd have liked to achieve something great. Today, I realized that I should enjoy my life first of all, and then if it was great, it would be more joyful. Anyway, take it easy, everybody including me. By the way, I wonder what I cook for dinner tonight.
Well, I didn't go running and had big lunch today. I guess I've put on weight yesterday and today.
Then, see you tomorrow. 15 people visited this site yesterday. Thank you. By the way, can you image that it's winter in New Zealand by the photo?