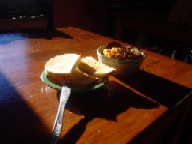 Hello, everyone. What did you do today? It was nothing special to me today though it was sunny.
My work was busy today. I worked until 2 pm today. Then, I had lunch. After that, I went walking for an hour. I usually go running but I was tired and so I didn't have energy to run. However, it was very cold so I ran sometimes.
By the way, I got an e-mail from Teiko a couple days ago. She lives in Hokkaido now. She told me that it's summer in Hokkaido but not so hot and also not cold. In a word, there is very comfortable place this season. I'd like to go to Hokkaido now! Actually, I have never been to Hokkaido. After I go back to Japan, I'm going to Hokkaido by bicycle.
She told me she was very busy but fine. The scenery of Hokkaido is similar to the one of New Zealand. Even so, the life in Hokkaido is the one in Japan. Most of the people are very busy. I always think what the real happiness is. Does everybody enjoy their lives?
I don't know why but I wanna read a book now. Actually, I haven't read books lately. Anyway, I'm going to read a book tonight. Before that, I have to cook for dinner because I'm very hungry now. I'm going to cook the original spaghetti version 6.
Then, see you tomorrow. Well, 37 people visited this site yesterday. By the way, what are you having this dinner?