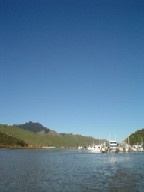 Hello, everyone. How was today? I'm not bad. It was beautiful weather in Hopewell.
This morning, when I was working as usual, Lynley called me,
"Would you like to go to Havelock?"
I remembered I needed to get some food and answered,
"I'd like to go"
I was worried about carsick but I knew that we were going there by boat. Actually, I like riding a boat.
It took about 20 minutes to Havelock. I really thought Marlborough Sounds is a very beautiful place while seeing the scenery on the boat. We were on the clear blue sea, among the deep green mountains, and under the high blue sky.
When we arrived at Havelock, Richard, who works our BBH, showed me to a supermarket. However, it was too small. I don't normally call it "supermarket". It was just a shop, a small shop. Then, I bought milk and cereals. That's all.
Lynley told me she was going to Blenheim to watch the soccer game of Sarah who's her daughter. However, I don't want to go there because I'm afraid of carsick. The road to Blenheim is quite hilly and really winding. That's why I handed a shopping list to Lynley.
I finished working at nearly 3 pm and afterwards I went biking. Then, I was very surprised on the way. Something was on the road. Guess what.
Actually, there were many caw or bull (or some different animals) that was walking on the road. Although I was with King then, he was also surprised and turned back home. Even then, I kept going, of course. I enjoyed biking for about an hour and a half. I felt fresh air in the wood. It was a nice day.
Then, see you later. By the way, 16 people visited this site yesterday. Thank you.