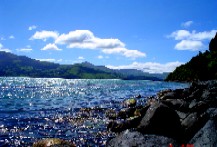 Hello, everybody. What's new? I have nothing special. It was rainy today though my work was off.
This afternoon, I was deeply buried in thought while seeing the rainy sea at the front of my room. Well, it's like my hobby. Then,
"I wonder what I am going to do", I thought.
And afterwards, I looked many photos which I'd taken in New Zealand till today. Then, I really thought I've faced much of things or places.
Then, what am I gonna do tomorrow?
I don't know.
I think I should go to bed early tonight and I will get up early tomorrow morning. Then, maybe I can find something special.
Well, 17 people visited this site yesterday. Thank you. This picture was taken last November in Akaroa. Then, see you tomorrow. By the way, what are you going to do tomorrow?