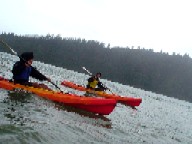 Hello, everybody. How's it going? I'm good. Actually, it was rainy again and again. What's happening here?
It was the birthday of Ally today. She is a daughter of Lynley who's my boss. After finished working, I joined the big brunch party. She became 11 today. Although I talked to some people, I didn't actually talk to Ally at all. I had to say "Happy birthday" at least. Actually, I've been here already nearly 3 weeks but it's just a little that I've talked to her. I have to get on well with her but I don't know what to talk to her. That's a little problem for me now.
In the afternoon, I went kayaking with two customers though it was raining. They are English couple, Liz and Leo. When we started kayaking, it was on-and-off showers. However, it came. It became raining cats and dogs. By the way, I like this phrase "raining cats and dogs". I asked to Liz about it. She said,
"It is old words. Old English people sometimes use it"
Anyway, it was really raining cats and dogs, and also the wave was high. I saw a man, who was navigating a boat, waved to us with his smile. I replied by waving. Maybe we looked very crazy kayakers. Although the weather was quite bad, I really enjoyed it. When we were going back, the wave helped us to go back, and so it was easier and I could talk to Leo while doing kayaking.
Although I didn't know if they really enjoyed it, at least, I enjoyed. Afterwards, I had a shower and cooked for dinner though it was a bit early. After dinner, I continued to read the book, "Norwegian Wood" in the common room. Then, there were 6 people there but it was quite silent. Actually, everybody was reading books or magazines while listening to music. There was a very comfortable place for me. I was reading the book using a dictionary. Then, Liz said,
"Oh, you are teaching English by yourself."
That's interesting saying, I thought. "Today, after dinner, I taught English"
Then, see you tomorrow. I'm very worried about the weather because Tomoko and Sumie are coming here tomorrow. Ah, I've been writing about weather everyday. By the way, yesterday, 20 people visited this site. Thank you very much especially, Ivy and Sindia! I heartily appreciate your visits! I'll write interesting journals to amuse you as I can.