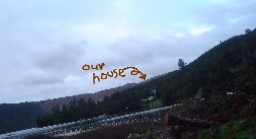 Hello, everyone. What's new? It was nothing special for me today.
The raining cats and dogs kept going until this morning. Last night, it was stormy though I could sleep well. In the afternoon, the rain stopped so I went running with King (dog). I hadn't been walking or running for 2 days so I really refreshed. Also King looked very happy. He ran more than usually fleet.
By the way, a new worker would come here yesterday but she didn't and hasn't reached still now. My bosses and I don't know why. When she came here, my work would change. However, for that reason, I am cleaner still now.
Recently, my life has been nothing special. I think the cause is bad weather. I miss a sunny day very much!
Then, see you tomorrow. I wish it'll be fine tomorrow. By the way, 10 people visited this page yesterday. Thank you very much.