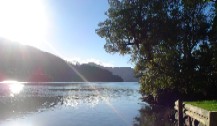 Hello, everyone. How were you today? It was a good day to me. In fact, I could be bathed in the dazzling sun shine today.
Although 20 people(they are 1 group) have been staying here now, my work is not so busy because they are staying for 3 nights. In a word, I must be quite busy the day after tomorrow.
After finished working, I went mountain biking. There is quite steep road around our place. I went between trees. Then, I really realised it was stormy yesterday. The road was quite muddy for the rain. That's why the bike and I were covered with mud. However, it was good time. I felt really fresh air in the woods.
In the evening, my boss and visitors had dinner party and they welcomed me. Although I'd already had dinner, I joined them and had a big meal again. Although I was just looking and listening that they had some conversation, I enjoyed that time. It was also good for my English studying. They looked heartfully enjoying. It was quite different from general Japanese style. I talked to them only easy words. I wished I spoke English better. Then, I thought I should study English to join them and talk a lot.
Then, see you tomorrow. Take care about yourself. Actually, I heard my brother caught cold. Anyway, I'm as well as ever.