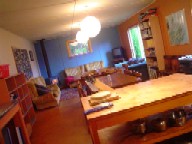 Hello, everyone. How's it going? Today, I cleaned many places. Actually, 20 people have stayed here tonight.
By the way, it was violet stormy this morning but in the afternoon, it became calmer. I asked to my boss, Lynley,
"Is it occasionaly?"
"Yeah, it is not quite often", she said.
Ah, I wanna see the blue sky, white cloud, and the dazzling sea... I wish it'll be sunny tomorrow.
Well, actually, I overslept this morning. Although I had to begin my work at 9:30, I was woken by Lynley at 9:45... Then, she said,
"That's all right. Have breakfast and begin to work at 10"
I guess I have to go to bed early tonight.
Then, see you tomorrow.