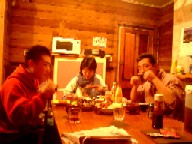 Hi, everyone. How's it going? I'm as well as yesterday. It was the last day in Timaru to me today. I did a final work but it was nothing special. It was the same as always.
This evening I visited a neibour. A Kiwi man, a Japanese lady, and their child live there. I told Scott who's the Kiwi, I'm going to Marlmorough Sounds. Then, he told me that he'd ever visited there and he'd really liked it. He also said,"There is very beautiful. You'll like it" That's a good news.
Tomorrow morning, I'm leaving Timaru but acutually, I haven't finished packing my things up yet. I guess I don't have enough time to sleep. I've slept for 9 hours everyday recently. However, it'll be almost the departure time in 9 hours from now.
By the way, I've been in Timaru for 102 days. A lot of things have happened to me there. I used to cook for dinner. I used to go to school but only for 4 days. I shaved my hair by myself. I joined the wedding ceremony and the party. I was going to Tonga to work but I couldn't. I went to Chch by bicycle in a day. Suddenly, my friends came to my house from Chch. I was a paper boy but only for 3 days. I went to Dunedin by bicycle in 3 days. I met lots of people and talked about many things. I've really had a good time in Timaru. I'm thankful to everybody especially my bosses.
Well, I have to go now. Then, see you maybe tomorrow. I'll keep a journal as possible. I'm going to an internet cafe tomorrow, maybe.