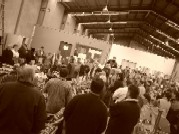 Hi, everyone. How are you? I'm good. It was a quite fine day today though quite cold in the morning and the night.
Today, I went to an auction with my boss and her friends. I didn't buy or sell anything but I'm always curious so I went there. Although it was Thursday, there were many people there. Many of them were old people. There were many interesting stuffs but most of them were useless to me. That's why I left there before long.
Today, I cleaned around our house and I packed my things up for moving a house. Ah, I'm leaving lovely Timaru.
By the way, happy birthday dear Sandy.
Then, see you tomorrow.