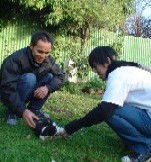 Hello, everyone. How's it going? Today, it was sunny in Timaru. In fact, it hadn't been sunny for over a week here. Today, I could see the blue sky. It was so nice.
Well, this afternoon, Hiro came to my house with his work mate. Actually, before that, I happened to meet them in front of Warehouse. Anyhow, I'd known that he'd been going to come to Timaru today before. He went shopping and got lots of things because his town, Tekapo is quite small town so many people also come to Timaru for shopping.
Hiro said,"Timaru is good town" Yes, Timaru was beautiful today because the weather is so nice. On a sunny day, we can see the blue sea and the blue sky. Then, buildings, trees, flowers, and people look beautiful, too, you know.
Hiro had brought his guitar. I wrote a message on it. That was,"Yesterday is history, Tomorrow is mystery, Today is a gift" I like this phrase. When I went to Christchurch by bicycle, Sindia's host mother, Nancy taught it to me. I love it.
After Hiro left there, I went to the church to study English. Some Kiwi volunteers have the English conversation group for foreiners who live in Timaru and study English. Although it's only once two weeks, I always go there. However, unfortunately it was the last time to me today because when next meeting happens, I'm already in Marlborough. I have very enjoyed the time in this group. Perhaps, I'm coming back there again in 4 or 5months.
By the way, in the evening, one company's manager rung me and she said, "This is blabla company could you work our place?"(I'm not sure but like that) Then, I remember that I had an interview before. I suppose it was about 2 months ago. It was them. It's a too late reply, isn't it? Then, I told her that actually I've already got a new job. Is it normal for Kiwi? Anyway, I'll go to Marlborough.
Tomorrow, I'm leaving Timaru to Dunedin. Maybe I can't keep a journal here in 3 to 6days or perhaps, over a week. But, no worries about me. I'll be back with certainly.
Then, see you later everybody.