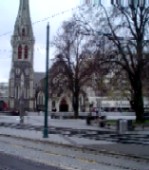 This afternoon, I had another interview but it was just say"hello" because the manager was not there. It was not an exact appointment. Last week, I sent my CV to the shop but I didn't know whether they want a new stuff or not. A shop stuff told me it's getting in winter so they don't need a new stuff maybe.
However, this afternoon, I've got many information about job. Tomorrow, I'll call to those shops if I can work there. Perhaps, I can be working the shop which I visited yesterday but I'm not sure. The assistant manager told me there were too many people had interviews so they needed more time. Anyhow, I'll ask many work place if I can work there.
I hadn't booked a bus but there was the bus stopping in front of me when I went out from the shop. Then, I asked the driver if I could take the bus though I hadn't booked. Then, I could! I'm always lucky. However, when the bus start moving, I noticed that I hadn't got a radish which my boss wanted.
When I arrived in Timaru, there had been already in the dark though it was 6pm. Then, I really felt it's getting in winter. Well, I was also surprised that the trees had no leaves in front of Cathedral in Cristchurch. Ah, yesterday Son said,"It's so cold here. I've got winter clothes today. When I was here in February, I used to wear just T-shirt" Yeah, sure is. I miss summer. Don't you think so everyone who's in the Southern Hemisphere?