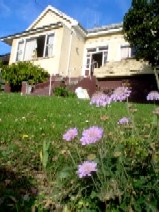 Hello, everybody who's reading this. How's it going? I'm Kazu who's lived in New Zealand since last October. From now, I'll keep a journal in English here. However, nobody knows how often I will do it.
Actually, I've had my internet site when I lived in Japan but now, I can't renew it. Today, I knew this system. Then, I decided to use it. In fact, It was about 30 minutes ago.
I think almost of all readers are my friends who study English so I hope it'll be good for their studying English. Even not so, I hope my journal will be able to be someone's enjoyment.
Well, what did I do today is like a gardener. I did mowing at my house almost of all day. That's why I'm tired now so I'll go to bed now. Good night. Ah, this clock is Japanese time. The real time in New Zealand is 3 hours earlier. It is 10pm now.