The basket ball match.[19th August]
Hello, everybody.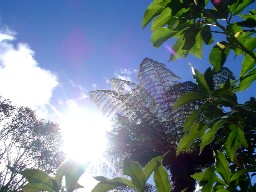 How's it going? I'm very fine. It was middle of sunny and cloudy.
Mike has felt not good still. On the other hand, I am very fine. Before breakfast, I went to the top of the mountain. And besides I went running about an hour.
In the evening, I cooked "Niku-jaga" again. After dinner, I watched the basket ball game which Kiwi verses SCG. It was a very nice game. When the 3rd quarter finished, Kiwi was 13 points, but at the 1 minute left in the final quarter, Kiwi reversed the game, and won. I was very excited and impressed.
Have you been enjoying watching Olympic Games? As for me, the basket ball game was the first impression game. Actually, I haven't at all known how Japanese teams have been.
Then, see you. Good night.