A letter.[17th August]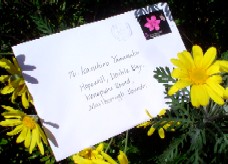 Hello, everybody. How's it going? I'm as well as ever. This morning, I received a letter. It was from Noriko & Tomoko. Thank you very much.
Noriko lives in Queen's town, and Tomoko is in Chch now. On the letter, they asked me how my 22nd birthday was. Actually, it was the same as normal days. I didn't tell my birthday to the people here. On my birthday, I mowed the lawn in the garden. Mowing is the memory of my 22nd birthday. It is not bad, I think.
By the way, Sandy also had sent a message to me on my birthday. She told that it was the Black Friday… I'd known it. In fact, I was born on the Black Friday in 1982.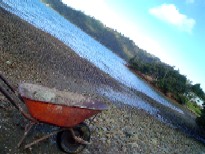 Well, today, my work was to carry stones again. Although it was cold today, I felt warm because of the physical labour. By the way, Mike has got cold. I thought he'd worked too hard. Added to this, it had become suddenly cold. He has to just relax. Well, I am very fine. I've had big meals and slept well lately.
In the evening, I had "Niku-jaga" which popular Japanese dish. Suddenly, I felt like eating Japanese food. Actually, I hadn't cooked Japanese food for a long. Anyway, Niku-jaga was very good.
It became rainy in the night. I wish it would be fine and warm tomorrow.