The Spanish couple left.[16th August]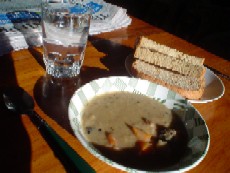 Hello, everyone. How's it going? I'm very fine. I slept very well. And the weather was lovely.
This morning, the friendly Spanish couple left Hopewell. When I met Natxo, I said,
"Buenos dias!"
"Buenos dias!", he replied with a smile.
When I was having breakfast, they left. Then, I took a picture with them. You see, my hair was bad. On the photo, I'm half dreaming still. When they were leaving, I said,
"Encantado de por conocerte. Buen viaje."
It means "Nice to meet you. Bon voyage", I suppose. Then, the lady said,
"Sayonara."
"Adios", I said.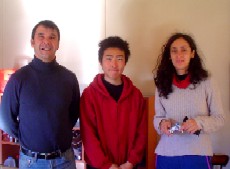 Although I hadn't noticed it, they were the first Spanish who I talked to in my life, I supposed. I know just them in Spanish people so far. That's why I've got very good impression of Spanish people. And I became interested in Spain.
By the way, my work of today was to carry lots of stones. It was good exercise for my muscles. I worked until 2 pm. Although it made me a little bit tired, it was very nice that physical labour in dazzling sunshine.
In the night, I had a hot spa and saw much of stars after a long interval. I really thought it was good day.