The slide show.[15th August]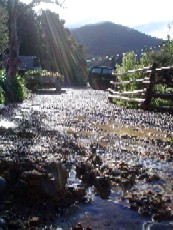 Buenas tardes! ?Como esta usted? (Good afternoon! How are you?) The friendly Spanish couple, Setaeh & Natxo is staying here tonight as well. By the way, I didn't feel so good today because I went to bed at 3 am last night. To sleep well is very important to me.
It was extremely stormy from last night till this morning. The time was going by noon, it suddenly cleared. Setaeh and Natxo went kayaking. Actually, it was the first time for them to go kayaking. They told me they'd enjoyed it though it had been a bit difficult to go straight. They took a twin kayak. I haven't used it. Although it'd been stormy in the morning, they told me the wave hadn't been so high. Well, before I asked, I'd already realised that they'd enjoyed it by their nice smiles.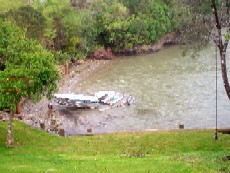 In the evening, Natxo asked to me if he could check his CD-ROM on the computer. Although the common computer doesn't correspond with CD, my computer does. And so I brought my computer into the lounge and checked it together. Well, there were their photos in the CD. The couple, Akiko, and I began to watch the slide show.
First, there were the wedding pictures of them. It was very nice. Although I wrote it also yesterday, they married just a month ago. They looked extremely happy. There were many photos of their travelling. I thought they usually went to quiet places included here. They visited deep nature.
Then, I had a nice time. I thought I wanted to go travelling to many places.