Mowing a lawn.[13th August]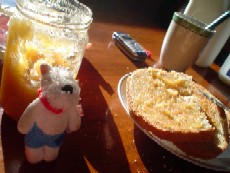 Hello, everyone. How's it going? I'm very fine as usual and the weather was good as well.
This morning, I was looking for my work. Everyday, I first clean the hot spa. And afterwards, Lynley or Mike gives me other work. Today, I asked to Lynley,
"What is my work today?"
"Well.., please ask to Mike.", she said.
Then, I found Mike and said,
"Are there any work I can do?"
"Not really. Please ask to Lynley.", he said.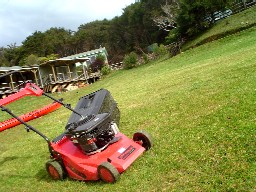 But no worries. I got work soon later. It was mowing the lawn. Actually, I used to do it in Timaru but our BBH has the very large lawn. When I'd done it, it was already 4 pm though I'd had a lunch break. Although it made me a little bit tired, I enjoyed it. It became very nice. Very beautiful.
By the way, I cooked the original spaghetti version 13, I suppose. It was tomato base. I used tomato, pimento (not to be exact), onion, garlic, chicken, nutmeg, oregano, parsley, chilly, thyme, basil, and flower. Lately, I am often impressed by my cooking. This version 13 was also great. By the way, I always make too much. I had the remains of lunch for dinner.
When I finished working, although it was already 4 pm, I went running with King as usual. On the way, I had a break and lay on the ground, and looked at the huge sky for a while. I just relaxed. The clouds were moving. The breeze was going through above me. I heard rippling sound. From somewhere, birds' songs reached there. Bulls were bellowing. And King was walking about. Among such nature, I was lying on the ground and just relaxing. I was enjoying the solitude. And, I was happy.
Then, see you tomorrow. By the way, did you feel happy today?