It was cold and windy.[11th August]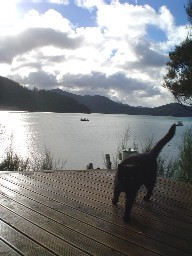 Hello, everyone. How're you doing? I don't feel good and sleepy now. That's why I'm going to bed now though it is 7:30 now.
Well, it was stormy when I woke up this morning. But it became clear by 9 am. I worked as usual, and had lunch. Then, I cooked the original spaghetti version 12. I used mainly cayenne, turmeric, oregano, thyme, potato, carrot, onion, cabbage, and flower. It was not bad but I thought I had better to add meat.
After lunch, I was reading a book while ate cereal. Then, I'd had too much before I knew it. And afterwards, I went walking with King. But I felt not good and it was cold today.
Although I haven't had dinner yet, I'm going to bed now. I'm not hungry because I had lunch too much. Then, see you.