Building a house.[9th August]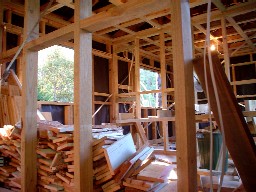 Hello, everybody. How's it going? I'm good. And also it was lovely weather. Well, I worked hard today. Maybe it was the longest hours since I came here.
This morning, I was bathed dazzling sunshine. It made everything beautiful. Sky, sea, woods, trees, leaves, stones, flowers, glass, weeds, and also buildings, everything was great. Then, I took many pictures as ever. When I went to the spa, I was surprised. There was Jane. Actually, she was waiting for Mike to get ready the boat. She was leaving then.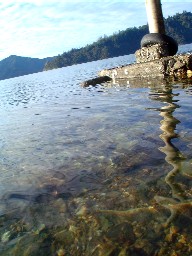 It was very nice meeting her and Jo as well. She gave me her phone number. She lives in North Island. Although I'm not going to the North Island this time, I'm going there some time. I'm going back to New Zealand someday with certainly though I have to work hard in Japan before that.
Well, today, I helped Mike to build a house. Actually, it was to renovate, to be exact. But it was almost to build. I worked until 5 pm. It was a bit hard work, I like physical labor very much. It was fine day. It was very nice that working in sunshine. When I was working, Lynley gave me nice cakes. The cause of the cakes, I'd had energy to go running after working even though it was 5 pm.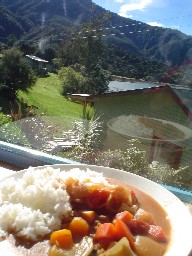 After running, I had curry for dinner. I added some milk, butter, and flower to the curry. Then, it became like a stew. The taste was very nice. I decided cook a stew later though I don't know how to cook it. Maybe I would create the original stew version 1 before long.
Then see you later.