Richard left.[5th August]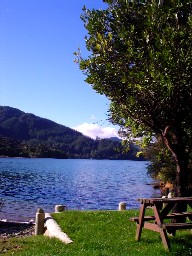 Hello, everyone. How's it going? I'm So so. I didn't go running or walking today because it was raining all day.
This morning, four customers left. In addition, Richard went back to Canada though he had come back from Australia just last Sunday. I miss him. He used to talk to me everyday. Although I often couldn't hear his English, he talked slowly, and explained again and again for me.
When he was leaving, he told me that he was coming back to Hopewell before long. Perhaps, we would meet again. Now, I'm thinking what I will do, and also where to go in September. My visa expires on the 11th October. It means there are 2 months left for my stay in New Zealand. I can't believe that I've been in New Zealand already for 10 months.
By the way, it's already 7th August now though I'm writing this journal like today is 5th. Ah, I'm getting lazy…
Today (5th), I read a book till late again. The book title is "Hoshi no junrei" (The pilgrimage of star) written by Paulo Coelho. I'm not sure the English whether the English title is correct. I read it Japanese and besides Paulo Coelho is Brazilian. It's a very nice book.
I read a book at the lounge until 1 am. Then, there was a guy, Alex there. Although it was already in the midnight, he was enjoying drinking wine while listening to music. He seemed to love music. Well, he likes talking as well. When I talked to him something, he didn't stop speaking for a while. He is very funny and quite friendly.
Then, see you later.