I am fine.[4th August]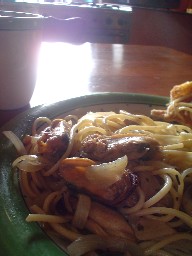 Hello, everybody. How're you doing? It was sunny in this morning but became rainy in the evening and cold.
Well, I've been lazy lately. I hadn't connected to the internet for three days. That's why I renewed my diary for from the 1st to the 3rd August today. For these three days, I hadn't been actually busy. Just I'd relaxed and been in the nature longer, you know.
This morning, I had the remains of last dinner which was named "Version 9". In the evening, I cooked the original spaghetti version 10 for dinner. It was good as well. I used a chicken stock cube for that. And I added a little cayenne, nutmeg, thyme, oregano, and so on.
After dinner, I read a book, and now, it's already 2 am, before I knew it. I'm sleepy. See you some time. I don't know when I renew the diary next.