The dinner was shellfish.[1st August]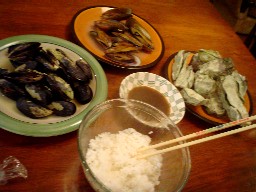 Hello, everyone. How are you doing? I'm very fine but I'm not sure if I would be alive tomorrow or not.
Today, all of customers left. Although the quiet has been back, I'm not lonely. Here is not only Akiko but also Richard has been just back this afternoon. Although he used to work at our BBH before, he had traveled to Australia for 3 weeks. And, back today.
By the way, it was a very fine day. The sea and the sky were very beautiful blue. After work, I went running with King as usual. It was very nice and I was happy in the beautiful nature.
After running, I picked shellfish up for dinner. Actually, it was the first time after I'd come here. In fact, Kenepuru Sound (our place) had been closed for a while. It meant we didn't have to eat shellfish the cause of poison. But last week, it opened.
Anyway, I cooked them for dinner today. I got oysters and mussels. I steamed oysters and fried mussels with garlic and wine. I made sauce for oyster Although the sauce was not so good, oysters and mussels were nice.
Actually, I picked up many. Then, I asked Akiko and Richard whether they would taste some of them.
"I don't wanna die so far.", Akiko said. And Richard said,
"I will wait for 5 minutes. Then, if you are alive, I will try."
They thought I would perhaps die…
Anyhow I am okay so far. However, I'm not sure if I was all right tomorrow.
By the way, I had a hot spa for 2 hours last night (10pm-12am). There was the shining full moon in the centre of the sky. I was deeply buried in though. I was listening to the sound of ripples and sometimes I heard some birds' voice. I watched a shooting star. I had very wonderful night at the spa. Then, I thought that I would be back here some time after I go back to Japan. I love here, Hopewell very much.
If I am alive, see you tomorrow.