The day of curry.[29th July]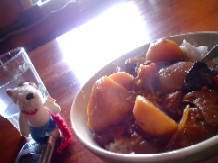 Hello, everyone. How's it going? I'm very fine. It was raining in the morning but it became clear in the afternoon.
Today, I sent e-mails to 6 people. Actually, I hadn't sent replies to my friends recently. And I am going to send e-mails also tomorrow. I have lots of things to do every day though I enjoy those and really relax as well.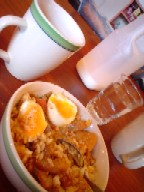 Today, I've done my conventional activities which have been walking, running, hot spa, and just relaxing. Well, I haven't done cooking today because I cooked much of curry last night. Breakfast was curry. Lunch was curry, too. And also dinner was curry again. Nevertheless, there are the remains in the pan. I'm having it for tomorrow breakfast, lunch, and perhaps dinner too.
It's nearly 1 am now. I am sleepy and so I'm going to bed now. Then, see you tomorrow.