The hangover?[28th July]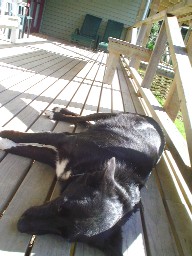 Hello, everyone. How's it going? I'm not bad. It's raining here in Hopewell.
This morning, it was cloudy. And I went walking but it was nearly running up to a mountain with King. I have waken up early lately. Old people said,
"The early bird catches the worm."
Today, I went walking for an hour. I felt fresh air, and afterwards I had nice breakfast.
This morning, 3 customers left our BBH. But the work was very easy. I really felt,
"1 plus 1 is 3, or can be even more."
Especially bed making was quite easier than the time I'd done it alone. That's why Akiko and I could clean rooms quite tidy, and we finished the work by noon.
Then, I went running with King. I often see a Kiwi guy, who lives in the neighbourhood, to walk with a dog on the way to go running, but today I saw that he was running. I don't know exactly why but I was a little bit happy to see it. Although we always say "Hello" or "Hi", it differed a little today.
"Hi!!!", he said with his refreshing smile.
After running, I had lunch, a shower and a hot spa. My conventional day is back. When I was having a hot spa, Lynley and her daughter, Sarah and Ally left from the wharf and went travelling to Australia. The wharf is next to the spa.
"Good bye, Kazu!", Lynley said in a happy voice.
"Good bye. Bon voyage.", I said while relaxing in the spa.
Then, it gradually became rainy. I went to the common room and wrote journals of 26th and 27th. Well, the cause of that I felt not so good today was a hangover. But I didn't drink alcohol. The hangover is actually carsick. In Japanese, we use the same word for carsick and drunk. When I told it to Akiko, she said,
"It's very funny but I heard that my friend had a dim consciousness when she had a medicine for carsick. Your hangover is perhaps the same as hers."
"Ah, I think so. Lynley told me the medicine was very strong one."
"Well, has the medicine begun to work just now? It's too late.", she said.
But now (11pm 28th), I feel better.
I'm going to get up early tomorrow as ever and transmit this journal in the morning. Then, see you tomorrow.