Removing spider webs.[26th July]
Hello, everybody. How's it going? I'm not bad but not good. It's afternoon of 28th July now. In fact, I haven't kept a journal for 2 days. I'm sorry. It's raining now and I am in the lounge. The radio is been on. I am writing this journal while Akiko is reading a book on a sofa.
/////////////////////////////////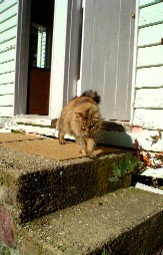 Today (26th), it was the first work to Akiko. Although Lynley told us we would start working at 10:30, we started at 10. No customers left here today, and so we cleaned just the bathrooms and the common room. And afterwards, we removed spider webs on the walls of all buildings. Then, Akiko said,
"We are troubling spiders though they have just spun webs. They don't trouble to us except to make a house looks bad."
However, she looked very enjoying the work.
After we finished working, I cooked spaghetti for lunch. Although I would cook for dinner for Akiko last night (25th), Lynley invited her and also me for dinner. That was why I cooked lunch for her today.
"What version is this spaghetti?", Akiko said.
"Version? Ah, it's version 7, I suppose. Well, do you read my journal?"
"Unexpectedly, many people read your diary. Well, Mr. Masa told me that he would have liked to taste the Beef & Potato (Niku-Jaga) spaghetti."
I was glad to hear it. I'd thought that only Sindia and a few others had read my journal. By the way, the version 7 was tomato base, and mainly used oregano. It was good taste, I felt.
By the way, when we were having dinner with Lynley and Mike last night, Lynley asked us,
"Why don't you talk in Japanese? Nihongo-de."
"We prefer English to talk.", we said.
Well, the main dish was lamb steak.
"These were in our garden.", Lynley said with a smile. "They were killed for us. I think they are happy to be such tasty steak."
"I hope so.", I said with a serious face.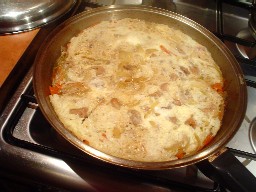 Well, today I cooked Oyako-don for dinner. It was nice as ever. Although I would take a picture of Oyako-don with Akiko, she disliked it. I guess our friends would like to see photos of her but unfortunately I would be unable to do it.
Then, I'll write a journal of 27th soon. See you. By the way, it was sunny in the morning but it became stormy in the evening.