The tinned food.[24th July]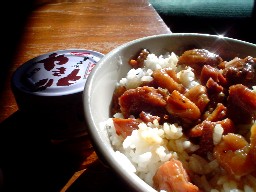 Hello, everyone. How's it going? I'm very fine and the weather was also very fine.
Last night, no customers stayed at our BBH, and so where I cleaned was just the bathrooms and the common room this morning. Well, Akiko is coming here tomorrow and starting working. That's why I will be a not cleaner from then.
Well, I cleaned up the bathrooms and the common room quite hard today. Maybe I'll miss cleaning the rooms.
By the way, this lunch time, I had tinned roast chicken with rice. Actually, I'd got it from my close friend the day I left Japan. His name is Iwao. Then, Iwao said,
"You'll must miss Japanese food in New Zealand. Then, have this."
Well, actually I don't miss Japanese food so much because I often have Japanese food. Nevertheless, the roast chicken impressed me enough. Thank you, Iwao though you might forget that you sent it to me.
Today, an English girl came to our BBH. Many English people have visited here lately. I like English people because their English are easier to hear than Kiwi English, you know.
Then, see you tomorrow. There are much of stars in the sky tonight as well.