Sumie & her joyful companies left.[20th July]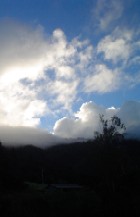 Hello everyone. How are you doing? It was raining in the morning but it became clear before long.
This morning, I waken by them Sumie, Sanae, Kaname, and Mitsuhiro. They left at 9 am. Thanks to them I didn't oversleep. Although they said "Thank you" to me, I'm really thankful to them. They had me wonderful time and gorgeous meals. And besides, they left lots of food for me though I thought they forgot to have some food because there were banana chips which I dislike and they had known it. Anyway, thank you very much. I had really great time with them. I'm very thankful to them to visit here Hopewell.
Today, I worked until 3 pm. I had to work quite hard because I had off day 3 times last week. After work, I went running with King. I had much energy more than usual because I'd had big meals for 2 days with my friends.
However, in the evening, I was exhausted because I'd worked a bit long hours and I hadn't slept enough last night. That's why I went to bed early. And I didn't renew this journal.
Anyway, see you later.