Apple jam.[17th July]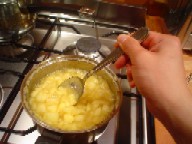 Hello, everybody. How are you doing? I'm good. It is raining now in Hopewell though it was cloudy in the afternoon.
Actually, I woke up at 1:30 pm today. But it's no worries. It was my off day because there were no customers. Last night, I went to bed at 5 am. I enjoyed cooking at the large kitchen where nobody was there except for me. I had dinner at midnight. Afterwards, I began to cook apple jam. Although it was the first time for me to cook jam, it was interesting. Actually, I didn't know how much it should be put sugar in, and so I might put a bit much. It's a little bit sweeter.
After that, I watched "Titanic" on video. I'd watched it before so it's easy to understand even in English. Well, I don't know why but I was impressed it quite more than before. Then, I felt I would have liked to travel by ship.
Well, this afternoon, I went running with King. By the way, I guess I put on weight recently and what was worse, yesterday I had big dinner at midnight and tasted apple jam many times. I should do exercise. Today after lunch, I went into the mountain to walk with King. I walked for a half and an hour. Well, I'm thinking what I cook for dinner now. I think I should have vegetables.
By the way, Sumie and her 3 companies are coming to Hopewell tomorrow. Although I get on well with Sumie, I haven't ever met 3 others yet. That's why I'm really looking forward to meeting them tomorrow.
Then, see you tomorrow. 15 people visited this site yesterday. Thank you.