The storm has gone.[15th July]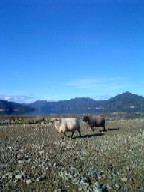 Hello, everyone. How are you doing? I'm very fine. It was rainy in the morning today but it became clear in the afternoon.
My work was finished at 1:30 pm. Then, I had lunch and afterwards went running with King. Although the wind was a bit strong, it was comfortable for me. The wind swayed the trees. It was like as the trees were speaking.
After I got home, I had a shower and a hot spa. It was my conventional pattern. When I had a hot spa, the sun had already gone beyond the mountain but I could see the clouds on high were bathed in sunlight. It was beautiful. On the other hand, I was fighting with insects on the spa. The insects usually appear there the day after rain.
Today, Lynley gave me lamb chops. I roasted a piece of it for dinner. It was very tasty. Actually, I hadn't had lamb for a long. And besides I have meat occasionally after I arrived at Hopewell because I have to save money to live in New Zealand more 3 months. Anyway, thank you very much, Lynley. They quite often give me some food. Thanks to them I will be alive until October, I think. I guess I have to work harder much more.
Then, see you tomorrow. Well, 13 people visited this site yesterday. Thank you.