Dolphins came to Kenepuru Sound.[8th July]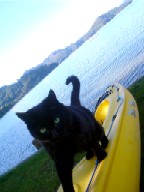 Hello, everyone. How's it going? I'm fine, thank you. Today, I saw dolphins from our BBH. By the way, the sea of our place is called Kenepuru Sound. It is one sound in Marlborough Sounds.
When I finished working and going to my room, Lynley and Ally ran toward the beach wearing lifejackets. They are going kayaking. They are in a very hurry. Then, Lynley said to me,
"In the common room, put the tray away into the oven later! We are going to see dolphins by kayak!"
They looked excited. Then, I felt interested in it and so I saw the sea. Well, there were certainly some dolphins swimming. Then, I went to the common room to do some remain work and got ready to go kayaking. I went to the sea to look for the dolphins.
About 5 minutes later, I met Lynley and Ally on the sea. Then, they said,
"Unfortunately the dolphins have already gone"
Then, I didn't have any idea what I should do. It was sunny. I was between the blue sea and the blue sky. Then, I decided enjoying kayaking. The sea was quite calm today. There was quite silent. I was listening to voice of birds on the middle of sea.
In the evening, I cooked curry for dinner. I always think that it is difficult to cook curry for one person. Also today, I made much. I'm having it again tomorrow breakfast.
By the way, many people staying our BBH tonight. All of them are couple. I suppose there are 4 couples. That's why there were very warm in the common room. That's fine but I'll be quite busy tomorrow.
It's sunny and I can see much of stars in the night sky now. I wonder whether I have a hot spa while watching the stars now. Then, see you tomorrow. 15 people visited this site yesterday. Thank you very much.