The Festival of the star Vega.[7th July]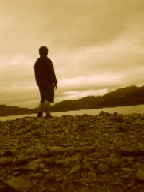 Hello, everyone. How's it going? I'm fine.
It is the Festival of the star Vega today. I think the festival is had in China, Japan, and maybe Korea. In Japanese we called "Tana-bata". We usually write a wish on a narrow paper tablet and afterwards hang it on a branch of bamboo. And at the night, we watch the Milky Way in the summer sky.
However, it's raining in my place and cold because it's winter here. Last night, I saw much of stars and also the nearly half moon. I feel that it is interesting that we can see the same moon wherever we are on the earth. However, I can't see the Milky Way tonight!
By the way, this afternoon I went running as usual. Then, although I took King (dog)… Guess what. Actually, he lost his way! He often feels interested in something on the road and goes out of road. Then, I usually keep going in disregard of him. However, today, he wasn't following me before I knew it. Then, I turned back and go to look for him. Where I found him was near the coast. There is usually a beach there but it wasn't then because of the high tide. He usually runs on the beach but he couldn't today. Maybe he was looking for his usual road. Anyway, I was tired and also lost weight, maybe.
Afterwards, I had big lunch. You know, the lunch after hard exercise is greatly delicious. Anyway, it was a nice day as ever. I've done hard exercise, ate big meals, and slept well. I've had quite healthy days in Hopewell. How about you?
Then, see you tomorrow. 21 people visited this site yesterday. Thank you. By the way, I will show you the photo of myself sometimes, Sindia. Look forward to looking it.