The rainbow.[5th July]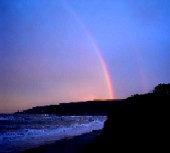 Hello, everyone. Have you got something interesting? I'm as well as ever.
It was changeable weather this morning but it became completely rainy this afternoon. Even though, I went running this afternoon. Actually, it was not so strong rain. Then, I saw a rainbow above the mountain beyond the sea. When it drizzles, we can sometimes see a rainbow. But the rainbow which I saw today was not so clear and disappeared before long. Although I prefer sunny to rainy, I sometimes look forward to a rainy day for the rainbow.
This photo was taken at the time I went to Dunedin by bicycle. It was near Moeraki. It was the biggest rainbow I had ever seen and even now. The rainbow was laid across the peninsula and the horizon.
By the way, I cooked the original spaghetti version 4 for this dinner. It was tasty. Actually, I re-cooked the remains of last dinner. I added tomato sauce, potato salad dressing, and cheese again. I was right. It became quite better than yesterday. I wonder what I cook for tomorrow dinner.
Then, see you tomorrow. Yesterday, 17 people visited this site. Thank you.