I met an English man at the hot spa.[4th July]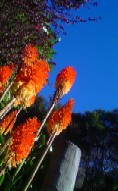 Hello, everyone. How are you doing? I'm pretty good. It was sunny again though a little bit cold today.
This morning, I had brunch party. It was a birthday of a neighbour man. Lynely and Mike invited also all customers. Then, I had some meat and 5 pancakes with much whipped cream, maple syrup. In fact, I had too much but it gave me much energy to work.
Afterwards, I could work harder than usual. And although I went running as usual, actually I ran for about 14 kilo meters. Then, I really realized that eating was quite important for human to live.
At dusk, I had a hot spa. Then, an English man came into there. His name is Daniel. He arrived here this afternoon. We talked over a hot spa. At first, he felt too hot the water though I was feeling quite comfortable. He looked be used it gradually. He was going kayaking tomorrow. I'm thinking whether I would join him.
Although I had lunch at half past 4 pm, I had dinner at 8:30. Then, a German customer said,
"Are you hungry again?"
Eating is very important as I told on this journal.
I cooked the original spaghetti version 3. I didn't boil for it. I fried vegetables and chicken. Today, I used mainly Turmeric, Garam Masala, Nutmeg, and Oregano. It was good taste. I like Turmeric. But I wondered that I should use soy sauce a little. Anyway, I've enjoyed cooking.
Yesterday, 15 people visited this site. Thanks. Then, see you tomorrow. By the way, did you enjoy this weekend?