The e-mail from Ruth & Peter in Australia.[3rd July]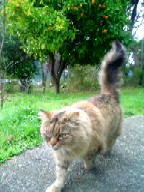 Hello, everyone. How's it going? I'm as well as ever. It was sunny today. I had a normal day today.
Well, several days ago, I got an e-mail from Ruth & Peter Zaugg. They travel in Australia now. I envy them their warm place. They told me the temperature was around 30-C at daytimes. It sounds like summer, doesn't it? I really miss warm summer! Well, I was glad to hear both of them were very well and enjoying travelling around.
By the way, they said,
"If you are interested in pictures about Cape York you can find them on our website,
Traveljoy
Click on "Bilder", Australian... (Last file), pages 8,
9, 10!"
Although their website is written in Swiss German, we can enjoy looking at the pictures.
Well, I had dinner just now. I cooked the original spaghetti new version. However…, it was not so tasty. Today, I used mainly cumin, nutmeg, and cinnamon for pasta sauce. I thought cumin was mismatch. And turmeric is quite better. Are there anyone who knows what cooking I can use cumin? I wonder what I cook for tomorrow dinner. How about you?
Although my work has been easy lately, I guess I'll be quite busy tomorrow because 6 people are leaving our BBH. By the way, 24 people visited this site yesterday. Thank you very much.