Potato & Beef Spaghetti.[1st July]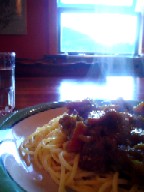 Hello, everybody. How's it going? I'm good except a bit sleepy.
Last night, I would have original spaghetti but I didn't. Actually, when I was using internet, Lynley gave me some chips. Then, I felt not so hungry, and so I had just 3 pieces of toast last night.
I had the spaghetti for lunch today. For the spaghetti sauce, I cooked like "Niku-Jaga" (Meat & Potato) which is one of Japanese traditional meals. For the spaghetti sauce, I used mainly turmeric, soy sauce, parsley, and cheese. When Tomoko visited our BBH, she said,
"You look really enjoying man's cooking!"
Yeah, I really enjoy it. I'm curious so I try to cook original dishes. I like challenging.
Anyway, I invented the new spaghetti today. Actually, it was very good but I thought beef was a little bit mismatches. Next time, I'll try to cook using mince. Well, do you enjoy something in your days?
Then, see you tomorrow. Yesterday, 14 people visited this site. Thank you. By the way, it was very fine weather in Hopewell.